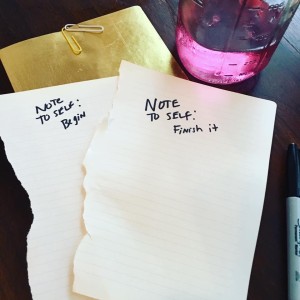 Monday August 7th is the Lunar Eclipse in Aquarius, which you probably already know and probably have already read about and are thinking about, what it means for you.
15 degrees Aquarius and it's got me thinking about the past because these Eclipses, for us astrologers and astrology lovers, are always rites of passage. We mark time this way.
"Oh yeah I remember THAT one!"
Like the way Floridians remember hurricanes. Hurricane Eclipse on my progressed IC and I moved how many times that year? Too many. ANY is too many.
So I'm thinking about the past because the Eclipses separate us from the past and push us forward into the wild unknown. They do this twice a year. Goalposts. Crossroads. Rivers and rivers of departure and finishing.
Here's the least you need to know, not in terms of astrological details (which honestly you can find anywhere), but details of the soul: 
I tend to follow the usual poetry of Full Moons: they bring endings, culminations, news, revelations, AND new starts.
And all the more so when the Full Moon is an Eclipse. That's the keyword here: MORE.
So it's not just a little bit of news or a little bit of an end it's a BIG news or a BIG end and as I say over and over, an Eclipse is not just one day.
There could be an event the day of or near the day of, but it's over time that the real meaning of the Eclipse for you will unfold. Months. Maybe a full year. Year and a half. And then you'll know.
If the Eclipse is on your junk (a planet or point in your chart) it's likely that you'll get a sign sooner, faster than the rest of us.  Yes, a sign FROM THE UNIVERSE. That kind of sign. Big and bold and possibly neon like your favorite diner and mine.
Are you used to feeling? Do you want to feel? Do you avoid it? Full Moons feel us and we feel them, but Aquarius is an AIR sign, not a water sign. The water bearer not water itself. Aquarius is electricity. Electricity is not rain. And when you combine the two? You get shocked. The feels that come up? They may shock you. The revelations that arise? Shock you. OH. I SEE. OH. 
So think of that as a theme for this Eclipse. That what happens over the next year (because Eclipses create an energy pattern, a landscape you must walk through) is SUCH A DEPARTURE for you. You cannot imagine it now. Or maybe you can. Maybe you are getting flashes. I imagine many of my students and clients have some idea of what's to come. Fuzzy around the edges maybe. Distant field of vision maybe. Eclipses bring change to the House it transits in your chart. ALWAYS. Always. Whether you realize it or not. Subtle or wild. It's the Death card and the Tower card in one. And hopefully something sweet too. Yes. Lovers sweet. Ten of Pentacles sweet. The good life. Ten of TENTACLES I thought to myself.
Quik astro detail:
I know some folks may be troubled that the Full Moon opposes Mars in Leo. Oppositions are fights, conflict in the energy which manifests as conflicts between humans. The Aquarius Moon in my experience is unpredictable (understatement) and Mars, as an energy, is in charge. Assertive. Aggressive! And that's the problem. Aquarius doesn't recognize anyone's authority – least of all pushy Mars in "adore me" Leo.
Listen:
It's time to stop running. Let the Eclipse stop you. And I think you don't even notice, day to day, that you are. Come to a full stop and see, really see, what you want to release (which is a Full Moon activity, this kind of thought process and scrutinizing) and what you want to keep, and what you want to do differently. From here on out. Because everything's about to be very VERY different.
Make sense?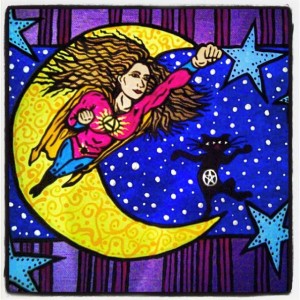 Tom Hart, who runs the Sequential Artists Workshop wrote a blog post that you can find here — about my September Tarot class (which is a collaboration with SAW).
This isn't a class in interpreting cards although there may be some talk of that. It's about creativity and Tarot deck creation. Come draw and write and think and be with us.