You can buy my books anywhere! You can order from the publisher, from an on-line shop or seller, from your favorite independent bookstore, and, of course, from Amazon.
The Little Book of Saturn came out in 2018, from Weiser Books.
A Mystical Practical Guide to Magic: Instructions for Seekers, Witches, & Other Spiritual Misfits will come out July 8th, from Llewellyn. 
My third book? Anyone's guess 🙂 I'm working on a memoir.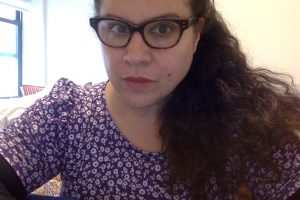 NICE PEOPLE WITH NICE THINGS TO SAY
"This is one of the most straightforward (and that's coming from me), organized and direct books on magic that I've read. … Aliza is honest, funny, and asks the questions that folks often forget after years of magical or tarot practice. This book is a delight, just like the author."―Melissa Cynova, author of Kitchen Table Magic
"Aliza Einhorn's delightful A Mystical Practical Guide to Magic is akin to cozying up in your favorite café with your favorite witch friend, the one who knows all the good stuff and always has your back. Besides presenting an easily accessible overview of the metaphysical arts, this wise and welcoming book offers a veritable cornucopia of magical tools to help you take charge of your life. It's the perfect guide for new seekers and budding witches everywhere!"―Kris Waldherr, bestselling creator of The Goddess Tarot and author of The Book of Goddesses
"Magic. It's something we hear about, but what is it? Aliza Einhorn knows the answer to that question. In A Mystical Practical Guide To Magic: Instruction for Seekers, Witches & Other Spiritual Misfits, she pulls back the velvet curtain to reveal everything you need to know for crafting a magical life. Aliza is like the cool witch next door who spills the mystical tea while serving you a cuppa. This book offers a lot without being overwhelming. If you're curious about all things spiritual and witchy, this is the guidebook you'll want to grab first."―Theresa Reed, The Tarot Lady, author of Tarot: No Questions Asked―Mastering the Art of Intuitive Reading
"Aliza Einhorn is the real deal! In this world where mentorship and guidance is often distant, cold, and electronic, Aliza invites you to take a personal journey, talking to you like a mentor should, as one who has been there living a real magical life and doing so with humor and creativity as she guides you through a mystical landscape. If you are looking for one book to answer all of your metaphysical questions, you have the wrong book. If you are looking for one book to inspire all the right questions and catalyze your own journey to answer them, then you've struck gold."―Christopher Penczak, author of The Inner Temple of Witchcraft, City Magick, and Buddha, Christ, Merlin
"This is an impressively wide-ranging mystical guide by Jewish witch, Aliza Einhorn. Penned in highly engaging prose, her book is an eminently practical guide to those wishing to engage with the spirits and magic in ways that relate to everyday concerns. As an expert on Santa Muerte, I especially appreciate the way in which she approaches the Mexican folk saint of death with humility, respect, and awe. Aliza's book belongs on the top shelf of all seekers and spiritual misfits."―Professor R. Andrew Chesnut, author of Devoted to Death: Santa Muerte, the Skeleton Saint
"In A Mystical, Practical Guide to Magic, Aliza Einhorn supplies the tools and provides a roadmap that enables readers to achieve their fullest magical and spiritual potential. She shows us how to integrate all our occult interests from Tarot to astrology to witchcraft and more into cohesive and profound personal magical systems. Reading this book feels like spending time with a fun and trusted friend. You will wish to return to it over and over again. Highly recommended!"―Judika Illes, author of Encyclopedia of 5000 Spells and other books devoted to the magical arts