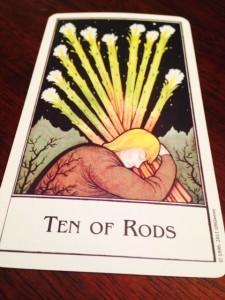 A general card for the situation, a card for DO and a card for DON'T
Situation, advice, caution.
I do this spread daily. I got it from Rachel Pollack (got myself a reading from her a few years ago) but it's been adapted a bit through use in the chat room – this isn't strictly the spread she introduced to me.
And this morning my DO was the Ten of Wands. Always interesting when a "bad" card – what we think of as bad – is our advice.
I mean, wouldn't you rather see Empress, Star, Ten of Cups, Three of Pentacles?
Ten of Wands. Okay. Seven of Wands (battle) as the DON'T.
So: 
don't fight.
Don't battle.
Pick your battles.
Don't worry about victory.
Keep going.
Almost done.
FINISH LINE.
KEEP GOING.
Eden Gray has a cluster of bummer meanings before getting to the good one: PROBLEM SOLVED.
But maybe we need to explore the other ones too, such as:
carrying a burden of ill-regulated power. Hmm. Pluto IS opposing my Sun.
Refining test by fire (she writes). Heart tried by pain.
Sounds about right under my transits AND/OR this Saturn Neptune sky.
What transits are you under? Are you seeing any Tarot TENS? 
xx
The JUNE Special is fast coming to a close. Not sure what's happening in July yet, to be honest. If I will run it again, keep things normal or introduce something new. I do know I will return to video making. Mars retrograde in my 3rd House of communications has slowed me down…
Message me for details about the special, the Teaching Bundles, the Tarot & Astro subscriptions and other good stuff