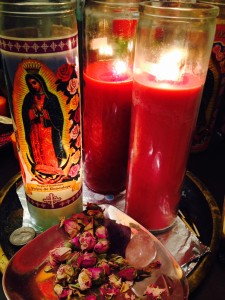 Damaged in every way. There is a freedom in it. To feel this level of, well, it's self acceptance actually. To make friends with your inner self loathing. You have no mask then. You are totally wide open. And then anything can happen.
And it's become a joke to me almost – I've written a lot of Full Moon posts about this one – about all the gnarly aspects and all the fire imagery and also today was reading about Saint Catherine of Siena and how she puts out fires so PRAY TO HER if you have a fire that needs putting. I know you do.
All New and Full Moons, all phases of the Moon, all Moon talk all Moon EVERYTHING, all the imagery, all the stories, all the goddesses, is related to the mother, your own and cosmic, and issues of nurturing and feeding.
I remember once, years ago, a lover of mine called my mother a piece of shit. That's a quote. I was telling him something about my childhood (no clue how it came up, he no doubt procured it) and in fine Scorpio fashion he told me like it was. It was intense (in fine Scorpio fashion) but it felt like support to me. It was.
I went on to break his heart which I regret all these years later but I suppose he was breaking mine all along as well.
This Full Moon is in my 8th House so it makes sense I'm thinking about sex and death and shit and intimacy and fires that erupt, fires that got put out.
Do you have fire? Where is it? Too much? Too little? Do you need some? Where is the Full Moon for you? Your Aries House is where the action is and will be this weekend.
Enjoy.
xx