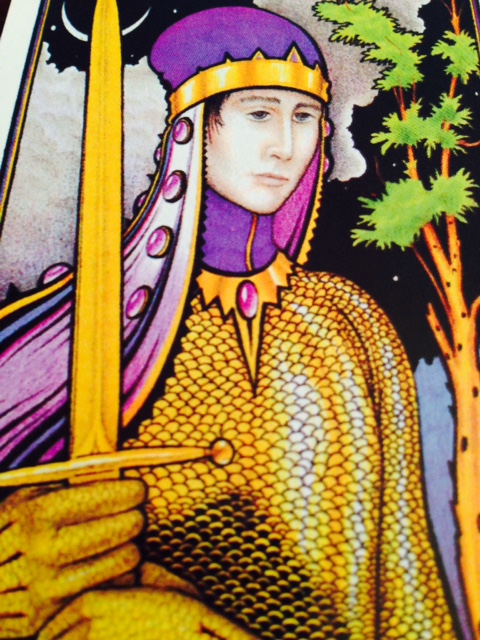 Because sometimes you need a weapon. Because sometimes you need a Sword. Because sometimes you must protect yourself and a Sword is a good choice, no? Yes.
Today I drew for myself a few cards, as I tend to do: advice for the day, a card of advice, and a card of caution and two of my cards had Swords in them even though only one was a Swords card. The other was the Magician who has all the suits/elements represented on his table. (Here is the Page of Swords though from the New Palladini deck.)
Swords are sharp. Swords cut. Handle with care. Learn proper form. Keep blade sharp.
The Magician, like the Sword, is sharp, a card of skill. More than skill. Personal power. Action is recommended. He creates "below" by creating "above" i.e. if we practice our magick, including meditation and visualization, then we actually can change our lives. What's the goal? Review it. Act accordingly. Plan. Move forward. More than power. Miracles.
*
Have you given much thought to the upcoming Full Moon? Sagittarius. 11 degrees. 
The Full Moon is conjunct Saturn (not too wide an orb for me). Can't hide from the truth. Saturn is truth, reality. Sobering, isn't it? But you're the Magician, see?
The Moon opposes Mercury. Lots of chatter in your head, in your heart. It's not a matter of being of two minds. It's that you don't like any of the options. Yuck. Your transits do suck, don't they?
AND lucky us the Moon also squares Neptune. Blurry goggles. The road ahead obscured. What's a witch to do?
And yet it IS a Full Moon. No turning back. Jig is up! For more "information" you have to check the aspects this FM makes to your own chart. Feels final to me. Something in your Sag House. Done.  The time has come. Done. The time has come. DONE. Say it with me…. 🙂
xx