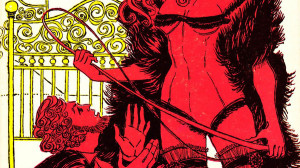 Last week I was writing about a submissive man with a submissive girlfriend and the problem was that he didn't realize she was submissive too.
She has a playful Gemini Sun and was willing to play the part but his stealthy Mars in Scorpio kept topping from the bottom. He was actually domming her by trying to get her to dom him.
Get it?
If not, that's okay. 😉
(And click here to the link to this client's Testimonial as well as to the original blog post)
But the update is this: he and I were going back and forth, email style, and he offhandedly mentioned that the girlfriend was married, an open marriage, and I'll spare you the rest of the details. Bottom line: long distance, she's taken, he's not.
Well, I said, this makes all the difference in the world and he wanted to know why I thought that.
The reading then became LESS about his intimate physical/psychological desires and more about what he wants in a partner overall.
Was he ready for someone who could/would commit to him?  Or was he happy with a little bit here and there. Were his needs being met?
You know what I saw? Jupiter transiting his 7th House this year AND sextiling transiting Uranus in his 5th!
You're going to have opportunities, I told him.
And maybe, just maybe, he'll find someone who will suit not only his deep and passionate Scorpio side but his loving, service-oriented, monogamous Virgo side as well.
To be continued…
Love, MP