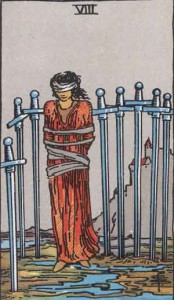 This morning as my advice card I drew the Eight of Swords — but how do you do surrounded by swords and blindfolds and Houdini ropes and sinky marshes. The self-imprisonment card. Stay right where you are. Or not.
I think I drew this card to call attention to "the ways in which I restrict myself" — as my teacher would say about Saturn through my 12th House. Saturn is NOT in my 12th House these days but heading back to my 4th and Saturn of course can bring that feeling of restriction and limitation OR… a muscle that gets stronger because you are lifting heavy weight on a regular basis.
A heart that has been broken will be stronger when it mends (Tom Waits as sung by Rickie Lee Jones).
So I "did" the Eight of Swords. I took a look at my restriction and I then I went for a walk in the Big City, up Pearl Street, down Water Street, up Broadway, to Trinity Church where I prayed for a miracle, a stained-glass miracle, and the Swords fell away and the seas parted, and we walked through — to the Promised Land.
Our Father Who Art In Duane Reade…
But seriously. Seriously. It was a good morning and I thought once again of starting an early hours Tarot/Astrology meet-up group, part meditation and part discussion of weekly topics. We'll see.
Eight of Swords questioning:

Are you trapped?
How so? Who trapped you? You?
How do you get free? Do you want to be free?
What will you see when your arms are free and you take the blindfold off?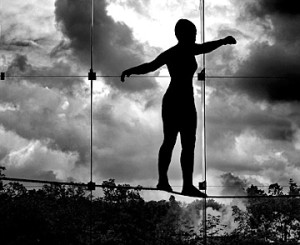 I love this, from Dovid Krafchow's Kabbalistic Tarot 
She relies on her intuition. Her manner of walking away is to go within. She is protected by the spirit of her actions.
Breaking free (writes Rachel Pollack) of the Eight of Swords reversed — but when I drew this as my DO card I knew that acknowledgment of the ropes wasn't enough.
From Angeles Arrien who perhaps would have approved of my walk today:
you are in states of doubt or confusion (when you pull this card). It is time to wait. Not to act. Trust and wait rather than overanalyze and thus creating more doubt, confusion, and interference…
What cards are you seeing?
xx
I want to start a new chat room/forum. A closed group, a secret group.
Both rooms that I currently have started out as more astrology-tarot forums and became more personal.
Both ways are fine. 
Email me if this interests you. Moonpluto@gmail.
I do charge a monthly fee for these – they are private, confidential and great ways to learn more, informally.
These are not spaces where I will be doing readings or looking at individual charts. They aren't classes either.
What are they?
Informal yet moderated spaces places to talk about all manner of metaphysical, spiritual, magical…