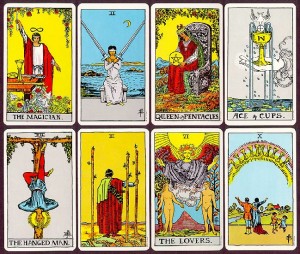 With all the sky-changes this week, I decided to head to the cards for some wisdom.
In my Creativity class,we decided to take the weekend off. Everybody's feeling it. A little anxious, a little confused, a little tired. A little burying of self in work. A little hiding.
Maybe the Tarot can tell us the best way to ride the October wave.
But first, an overriding question: when in doubt, where do you put your faith? 
Jeez, Tarot, these cards are better than my mood!
These cards tell us be patient and have faith and it won't be long now. And something will be on offer this month that may surprise you so check Uranus transits! Despite the stressful, ongoing Pluto Uranus square, your chart could be benefiting. I think you'll end this month feeling better than how you feel right now.
Good enough?
I got the 8 of Wands, the Fool, the Queen of Cups and then pulled one more card: Two of Cups.
So you may be feeling emotional. You may be feeling VERY emotional. The wisdom here is not to deny it. Do what you need to do and please don't repress. Build something out of those feelings. Our Taurus North Node people (in the class) are realizing they need to nap more 🙂 Stuff like that. Take care of your emotional body.
And when I see the 8 of Wands, I feel "news travels fast" and when I see the Fool I feel "this low mood is temporary." Also that life is going to get more interesting. Cycle of new cool stuff.
The cups cards. I keep returning to the cups cards. Be kind to yourself. You may feel all still and uncertain right now but the way to stay together is by feeling your way through it and taking your time. This hurry is an illusion. Others may call you selfish. They're mistaken.
And now that Venus is in Virgo you may be tempted to be overly critical of yourself or others. But Neptune opposing Venus will soften that urge if you let it.
Where are you holding? What's your card for today? 
Love, MP
***
Info about readings is here!   And the Mini-Moons are back!