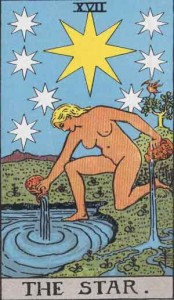 This week we head into Aquarius Season but that's not all.
Venus enters Capricorn.
Mercury retrograde in Capricorn squares Uranus and conjoins Pluto.
It's intense yes. Heavy energy still. Affecting your mind, thought processes, logic, mood. You may feel feverish or paranoid. Electric. Psychic. Blankets in winter making sparks. Hard to sleep. Flashes of insight that amuse or alarm.
Your Capricorn House is laden with story and repair and your Aquarius House begins to get lit up with your liberation.
Are you free? Do you want to be? 
In plain English: there is confusion yes. Wait for Mercury direct — although Venus in Capricorn has clues and keys for you.
Let me draw a card for these transitions:
Oooh! The Nine of Cups. I am surprised to see this one. It's not all gloomy grey, my friends. There are pineapples and pumpkins and baked apples with almond butter and Nine Cups of… what?
What shall they be filled with, my loves?
Your Tarot cards *may* be a bit wonky this week in your readings. I'll be curious to hear about this. Feel free to share 🙂
xx
Tarot Teaching Bundles – ongoing. $340 gets you 6 hours of time with me. I love doing these. Reading Bundles as well, as always. I will help you lower self-doubt, increase self-confidence, and get you discovering YOUR way with the cards, creatively.