It's an interesting week for Mercury and the Mercury people in particular – those of you with strong Gemini  or Virgo placements. Those of you who can't stop thinking. Those of you with massive Mercury and monkey mind. It's an interesting week for you. And I think that covers all of us pretty much.
Tuesday (which means we already feel this now) brings us a Mercury Uranus trine and a Mercury Chiron square. (Mercury is in Sagittarius in case you forgot.)
Wednesday, the Moon enters Virgo and she is up to all kinds of mischief on Wednesday and Thursday: she opposes Neptune, squares Saturn Sun, trines Pluto, conjoins Jupiter and more. I give you this list to spell it out for you and to let you know how busy she is and how busy you will likely be, even if only mind-wise.
Friday, Mercury squares Jupiter. And I'll write about the weekend as it gets closer (but do keep in mind the weekend brings us an exact atomic Mars Pluto square thus this energy builds all week).
Mercury Uranus promises a solution but Mercury Chiron on the same day does not. And then everything- in-its-place Virgo Moon just feels bad against free-wheeling white noise Sag which isn't so free-wheeling because Saturn.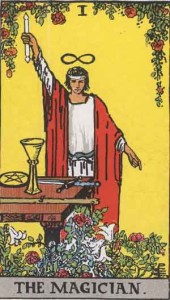 I don't mean this to sound like a bad week at all. I don't think it is but….
Mercury Uranus
Mercury Chiron
Mercury Jupiter
Virgo Moon up your ass
Are you clear? How clear are you? 
Which ideas are worth pursuing?
How will you not forget them?
As above so below so are you doing your visualizations?
Do them and your chances for manifestation increase.
WHAT ARE YOU DOING WITH YOUR MIND?
Are you keeping track of the big ideas and insights?
Do your feelings feel hurt lately? Yes I am referring to that Mercury Chiron square and how painful that is. But that Mercury Jupiter square is you laughing and preaching and teaching and feeling good.
In Tarotland the Magician is no Fool and no joke. The Magician is a ONE. The Magician is all the Aces combined. Can you imagine that level of energy and power???? ALL THE ACES COMBINED???? You'd be unstoppable. THAT is the Magician.
(Which reminds me, was talking to a client today who has her hopes set on this dude and he's the Queen of Cups and SHE is the Magician!)
Let her (the Magician) be your guide this week as you sort through the mental notes and confines and bright ideas and butterflies and…
xx