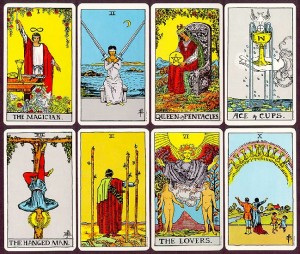 I wanted to draw a few cards for this week, keeping in mind some of the planetary energy: the Moon starts the week in impatient Aries and then enters sensual Taurus Wednesday night. Over the weekend the Moon is in talkative Gemini.
And the most notable transits take place either near the weekend or on the weekend: Uranus going retrograde, Mercury going retrograde, the Sun in Cancer squaring Saturn.
So already we can feel a punchy beginning due to the Moon in Aries and full speed ahead but then the energy builds (as it slows = Taurus Moon) and it builds to reversal i.e. the retros.
What does this mean for you according to the cards?
1)
Overall, however you feel right now is changing, will change, so hold tight. It looks like you are going through a difficult passage but remember: the Swords suit is "mental." Your perspective can be shifted. You wake up in the morning and you forget everything you've learned and who you are. Bad dreams, perhaps. In either case, pull out those swords one by one, dab something sweet on the wound, and bravely face the day. Think of one beautiful thing in your life that you are happy about. Start there.
2)
And although you feel like you are waiting for something that will never arrive, it will arrive. Just that some moments feel stark. Take a look around the room. I know you feel sad.  I am thinking  of the Psalms, David crying out in the wilderness to his God. Your enemies will not prevail. They will drink their own poison. You? Stay out of it. Live your life.
3)
A happy ending. How do you get there? Being kind to yourself. Being kind to your people. Being kind. Do not isolate. You are not alone. There is a sweetness in your life, like the Moon in Taurus. Others may wish to restrict or delay that sweetness but fate is working against them. You need do nothing but live your life.
***
What a stark reading. Stark cards this morning. Feels very Scorpio to me as well. I am going to pull one more card. Things will change sooner than you think and change for the better.  A message arrives from the 8 of Wands: do not delay.
What's your card for the week? 
Love, MP