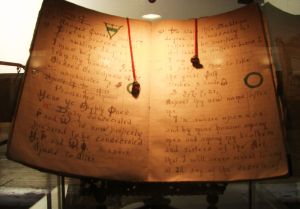 Something I posted on my Facebook:
Memory of my father — as I was perusing various styles of blank books on Amazon and ebay–
him sitting on the lawn, in some kind of lawn/yard chair, green grass, and reading a big black book, and one of the neighborhood kids wondering if he was reading the Bible.
No. He was reading Moby Dick.
When the ancestors speak, I pay attention. They speak in dreams, fragments of memory.
I will make another video today – Saturn in Sagittarius part two. And I will post it here.
What are the stories (Jupiter) we tell about Saturn?
Saturn in Scorpio was the dark magician's Saturn transit. The necromancer, the medium.
Saturn in Sagittarius is the storyteller's Saturn transit. Prophet, seer, clown! He tells his stories by joke and, gesture, glossolalia, crazy wisdom, anecdotal! Saturn enters Sag on December 23rd.
It is time to collect your stories – for Saturn in Sagittarius – gather them.
Your life is good harvest. Buy that blank book. It's Grimoire time.
**
My YouTube Channel is here. Do Subscribe 🙂
Link to the Private Blog is here. You can Subscribe for $10 a month.
Info about Readings is here. 
My Facebook is here. Many of my posts are public.
My Instagram is here.
My Beliefnet blog IN THE CARDS (The Tarot Blog) is here.