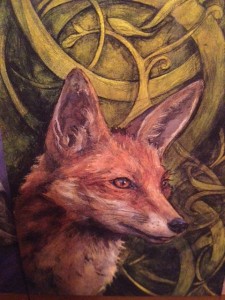 Posted on Saturday:
"Saturn went retrograde today.
The last Uranus Pluto square is Monday.
So tomorrow is anyone's guess 🙂
What sort of energy will be on-hand. Calm before storm? Or just another day?
I was mentioning in one of the chat rooms that I see the Saturn retrograde as a bit of a break – a lessening of intensity of the Saturn GOAL (whatever that is for you) which can be a good thing IF you need a break, need a rest. We can't always be moving forward. We have to LOOK BACK.
Saturn is a hard driving taskmaster and Sagittarius wants to roam so… I feel that with the retrograde, we wind up staying put. And some of us MAY feel claustrophobic sooner than later and just want to get going ESPECIALLY by the time Saturn moves back into Scorpio in a few months.
Some of you know I'd been very hot on the topic of moving house, but lately I've calmed down about it and the RX feels like a break to me "Oh you don't have to think about that now."
Some loose ends from Saturn in Scorpio and the previous house need tending.
THE CAR IS IN PARK — that's how I feel about Saturn in Sagittarius going retrograde.
Now about the Uranus Pluto square – the FINAL SQUARE.
I think this is HUGE and definitely MAJOR end of cycle business in and of itself!
And of course the Houses matter — where these heavenly bodies have been aching away, causing a stalled revolution in your life. Like you want to scream but someone has a hand over your mouth.
Know what I mean? SQUARES ARE FRUSTRATION!!! And we've been frustrated by these two planetary energies that HATE being penned in and refuse to be penned in thus causing all sorts of problems in those areas of your chart! There has been NO PEACE there!!!
So there WILL be relief. I can promise you that. Even though Pluto is still transiting such and such house for you and Uranus will be as well, the square breaks apart.
We'll all be able to BREATHE AGAIN and maybe live again there instead of all this ANGST!!!!!!!! And you know the Nodes in Libra/Aries were ONLY making this worse! Which is why I also wanted to discuss Nodes into Virgo/Pisces.
The exact squares?
June 24, 2012 – Uranus 8 Aries 23, Pluto 8 Capricorn 23 R
September 19, 2012 – Uranus 6 Aries 57 R, Pluto 6 Capricorn 57
May 20, 2013 – Uranus 11 Aries 14, Pluto 11 Capricorn 14 R
November 1, 2013 – Uranus 9 Aries 25 R, Pluto 9 Capricorn 25
April 21, 2014 – Uranus 13 Aries 34, Pluto 13 Capricorn 34 R
Dec 15, 2014 – Uranus 12 Aries 35 R, Pluto 12 Capricorn 35
March 16, 2015 – Uranus 15 Aries 18, Pluto 15 Capricorn 18
**
And of course there was more and there will be more… Today i am sharing magickal advices for those transits, suggestions, but those I shall keep private 🙂 🙂 🙂
Wishing you good stars!