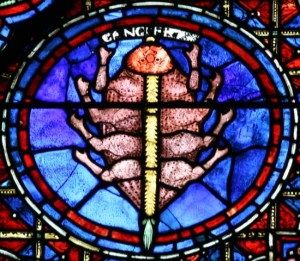 The New Moon is a seedling. Not grown yet. Potential. Possibility. Maybe. It could be. Ya think?
Hope + Intention = Magic.  Think of the Aces in the Tarot.
Do you set intentions on New Moons? I do sometimes. And I do sometimes for Full Moons as well. 🙂
Can you find the late degrees of Cancer in your chart? You will find some clues there, what this New Moon could potentially be about for you.
Also, let's take a bright side approach this morning: look for Pisces and Scorpio. If you have a water trine, you could benefit. And if you have a water trine, here's a hug 🙂 You guys need lots of touch to keep from floating away.
The one thing I don't like about this New Moon is the square to Saturn in Libra. Sun square Saturn feels (Cancer) oppressive (Saturn!)
You may feel blocked or trapped or some Saturn figure may yell at you. If your natal Pluto is poorly caught up in the square (which it may be for some Libras) you may be accused of a crime you didn't commit. Like finishing the ice cream without replacing it. It is Moon in Cancer (food!) after all.
But back to the bright side 🙂 New Moons are starting points and Cancer is home. Maybe you are… even thinking about moving! And if not a real physical home then the home you create wherever you are, like the Crab does, with her shell on her back.
For me? 11th. My hopes and dreams and I know already I'm going to have to be more social in the coming weeks due to good things, opportunities, but Cancers have mixed feelings about too much social. We like to hide 🙂
Let this New Moon be YOU coming out of your shell. Think about it. 🙂
Love, MP
Yes I am doing Mini-Moons for the New Moon!