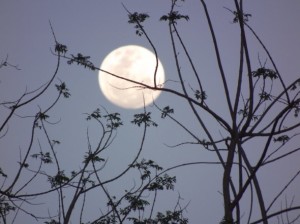 One of the women in the Creativity class suggested a wonderful ritual before the most recent New Moon. She told us to write down our intentions and seal them and then open them on the Full Moon. And I've decided to go one step further.
I had this blank journal lying around and I'd written a couple words in it and I've decided to make it my New Moon/Full Moon diary. And I'm taping those New Moon in Libra intentions (I had written them on individual big Post-It notes) in the book.
And tonight and tomorrow and probably the day after, I will also set Full Moon intentions, not just about what I want to release but about desire. After all, we are dealing with the signs of desire now, Taurus and then Scorpio. The next New Moon is in Scorpio and a Solar Eclipse. New Moon in Passion. New Moon in Sex. New Moon in Intimacy.
Did you read the Scorpio post I put up yesterday? What I was trying to describe was intimacy, at least for this Virgo Moon conjunct Pluto person. Processing a difficult situation, complex emotions, taking the time to do that… Feels like love.
And, yes, I cheated. I opened up my Post-Its early, before the Full Moon, in part because I need a distraction from worrying about Hurricane Sandy and I just wanted to see. I had remembered a couple things I had written, but not all of them.
I hope you'll try it yourself. And maybe even keep track over the year, like I'm going to do, to create a year in magic because setting intentions and doing this ritual is… it's not just wishful thinking. It's creating. And it's seeing how far you've come. How long it takes. So much has happened between that New Moon in Libra and today.
Are you planning a Full Moon ritual? 
xo