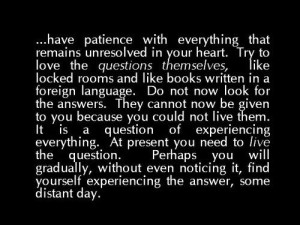 Are you familiar with Rilke's Letters To A Young Poet?
Well this is my letter to a young artist (although without much artistry ;))
I have a number of clients in their late 20s, early 30s, actors, dancers, musicians, healers, artists of all kinds and they are determined, talented, and worried.
They haven't made it yet (according to their definition of success) and fear that they won't.
I can't really generalize though. Some of them are doing their craft. Others are trying to do their craft and facing blocks. Still others are in training, school. And then there are those who are too busy with the eggs and bacon of life and will return to their art eventually, or discover it for the 1st time.
See, I wanted what you are wanting now. To be a working artist. To be respected, recognized, and money wasn't the point at all.
The point, however, is this: marry the process, not the product. BE a working artist. Create your projects; attach yourselves to others. Learn everything you can. Fall in love with your dreams. Seek out inspiration. Go for long walks. Ponder your contribution. Dream it and then begin to do it. And, above all, don't give up.
Age, when it comes to art, REALLY doesn't matter. 
I know history is filled with those who were young and gifted but you will continue to do great work as long as you keep trying to do great work.
Saturn in your sign or Saturn on your Pluto has been hell. You have wanted to move forward and have felt stopped by the hand of God.
Well, Saturn is leaving Libra and you will feel more free than you have in years.
The example I keep using these days: I just turned 42 and I thought I was done with the theatre even though lately I was having little desires to write a play again and then out of the blue I was contacted by that director about a play I wrote 4 years ago! See? I KNEW actually that something was supposed to happen, due to a transit, but I didn't know what.
If at first you don't succeed, if at second you don't succeed, if at third you don't succeed, then examine what you are doing. You may need to adjust your strategy. And this process may lead you to something else AND may lead you back again to that thing you originally wanted so much. Live your life with passion. If your passion is missing, then sit with the missing. And then call it home.
Do I advocate taking breaks? Pulling back? Yes, I do. And Mercury retrograde in LEO (creativity) is a perfect time for this.
Make sense? 
Love, MP