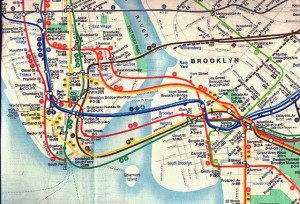 Okay, not really. But the other day on the subway I saw two people with Scorpio tattoos. Pluto is associated with death (and rebirth) and co-rules Scorpio.
One dude had a big glyph tattooed on his hand and a young woman had a little red scorpion behind her ear.
AND I had been reading a Donna Cunningham book and she was saying that when an outer planet enters a new sign, we start seeing events that are linked to what that sign means. Now, Saturn hasn't Scorpio yet but already I'm seeing them!
Sometimes when I see someone with an astro-tattoo, I strike up a conversation, despite my shyness. There was the manicurist with the Pisces glyph, the Libra guy who sold me my coffee… and now I'm trying to remember if I've ever seen a Virgo tattoo. Makes me laugh for some reason.
I don't have any tattoos although I want to cover my body with Hebrew (biblical) phrases, but that's another story for another time.
Who do you see along your travels? 
Love, MP
Yes, I am doing Mini-Moon Readings for the Full Moon in Capricorn!