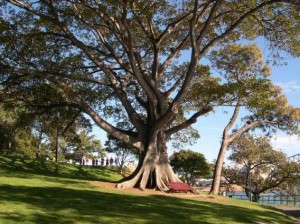 I got lucky, real lucky. Never lost power. Lights flickered numerous times. Lost internet for about a minute. And I was prepared with water, food, supplies for the cats, flashlight, candles, etc but in my Brooklyn nabe, nowhere near any body of water, we got real lucky.
I was worried about the huge beautiful tree in the backyard (worried about it falling on the house) but yesterday a Facebook friend mentioned that a "flexible" tree will not break and it did not break. I went out this morning to the  yard and she's lost a lot of little branches but she's fine, still standing. We're fine.
There's a tree at the front of the house though. That's the one I "should" have worried about. Huge branch fell onto a car, a couple feet away.
So that's my update. I spent most of yesterday on Twitter, the best source for news if you know who to follow and taking it easy — I'd been fighting a cold which got worse as the storm approached.
It is a disaster though, in much of Manhattan, Brooklyn, New Jersey… so let's talk Stars. Get our (my) mind off the crazy. And YES I am doing Readings, whether you live in a disaster area or not, although I may take the day off 🙂
**
Tuesday, October 30th: the Moon is void of course in Taurus which means she's no longer making any major aspects to the planets. This is your signal not to push or overdo or work too hard. It's "rest" energy. Don't make promises. Don't break up with your boyfriend. Psychic or intuitive work is supported though. You are more connected to the ether than usual. And in Taurus, even Void of Course, the energy inside you and around you is reliable, strong.
The Sun in Scorpio sextiled Pluto in Capricorn this morning. The sextile is one of the "good" aspects, pleasant. They say you have to "work it" unlike a "trine," which is a luck stream that flows to you. In this way, the sextile is even better because you may appreciate the result more. With a trine, you may not even know how fucking lucky you are.
The Sun is who you are, your ego  vitality essence personality and Pluto is power, power struggle, crisis, depth, the bottomless well or the bottomless pit. These two in sextile in a natal chart give a person strength, ego-strength, determination and desire and unless otherwise poorly aspected, is probably not ruthless or afraid. "Never lost power" – that's a good way to explain Sun sextile Pluto.
Homework question: How is Pluto aspected in your chart? How is your Sun aspected? Is it a mix of aspects? 
Later this week, Venus in Libra does a devlish dance with Uranus and Pluto but I'll talk more about that later today or tomorrow. In the meantime though, find Venus in Libra in your chart. Venus is love and Venus is money. Beauty, your social life, ruler of Libra and Taurus and will trine Jupiter in Gemini. Nice placement for the fire/air peeps or for anyone who  needs at little grace at this time 🙂
**
Difficult times, shocking times, change a person. What's happened in the city is shocking to me. And I saw who I want around me in a crisis. And I saw who was flimsy and foolish or who didn't show up. Priorities change. And the difference between love and fear is as big as the difference between my neighborhood and Lower Manhattan at this time. My prayers are with all those affected.
xoxo
PS Neptune stations direct November 11th. That part of your life gets moving again but remember, it's Neptune: confusion forward is better than confusion backwards, but use caution. If you are offered a deal that seems too good to be true, discover it closely, from all angles. Discern and examine. Neptune needs Saturn to make it real. Wise mind, my friends, use your wise mind.