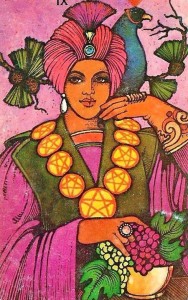 I am going to cut and paste here, straight from my Facebook so ALL the details are in one place and I will do my best to edit out repetitive info: 
The plan is to START THIS THURSDAY.
*
Generally speaking: 

I am starting an on-going (no end date in mind) group for Tarot study.
Secret Group on Facebook.
For Tarot lovers/obsessives/learners.
There is a monthly fee and I ask for three months up front so we have a core committed group of participants this fall 🙂 but you can join anytime. I can't imagine this group having a limited number of people.
Lurking is fine but you know I love a lively discussion.
It is NOT a reading practice group — although that will probably happen at some point, in a structured way – in the future.
.
You will improve across the board, I believe, if you join us. There's no way you can't… in my humble opinion 🙂
I am also one of those people who DOES believe one can read accurately for oneself. So this won't just be about Tarot learning but about us becoming better readers, helpers.
For the serious learner, I will stress routine.
Discipline.
Practice.
But you can also just show up and glean whatever the heck you want from the space which will be kind and fun and interesting.
I plan for this group to be quite focused although of course some dovetailing will happen (I can't help but mention what's happening in the sky sometimes) but this is truly for those who want to be dunked in Tarot 🙂
Just please know there is no end to this group so — after three months you won't know everything there is to teach or share. The group is ongoing until it reaches its natural end, hopefully a long time into the future.
*
This group is for those who want to:
-deepen tarot practice
-increase tarot knowledge
-deepen tarot routine (I will encourage tarot routines)
-exchange reading tips
-improve intuition by regularly working with the cards
-regular discussion with like minded souls
-share favorite tarot materials
-have a private place to discuss your tarot obsession
– increase confidence
– love tarot EVEN MORE!
And more.
Sometimes it's hard to predict what you will get out of something.
🙂
*It will not be overly structured. But it will not be 100% loosey-goosey either. I seek to find a balance between the Virgo – Pisces axis!
And I will be seeking your feedback in terms of what you want to learn although of course I also have my agenda 🙂 I am the group's facilitator.
It's OK if you are an absolute beginner as long as you don't mind the deep end. If you know me at all then you know I'm a bit eclectic and have my own rules and rhyme and reason so I will not be going "in order."
*
What is not allowed:
*no selling your own services or products
*No one is obligated to read for anyone else. No posts that begin: I've had a bad day can someone draw for me. I don't want anyone to feel put on the spot or obligated
*
Regarding the absolute beginner:
I think it will be FINE for any level. I don't think we ever know it all. We are always beginning HOWEVER I don't always start at letter A.
Sometimes I start with Q or P or E!
*
All group members will get 10% off readings with me as long as you are in the group
*
WHAT THE GROUP IS NOT. Important to mention. Stressing this: 

one of the MOST important things to know is that this is NOT the place to post a picture of your cards and ask people to read them for you.
"Oh I got this today – what do you think?"
That's not what this is for.
This is not the "here are my cards, give me your two cents" type of thing.
STRUCTURED READING PRACTICE *may* be part of this group eventually but I am not 100% sure how I want to do it yet. Have to think about it. I think about things!
We probably will move to practice sessions for those who want but it's NOT thing one.
This group is for learning and going deep into this amazing oracle and if you stick with me, stick with us, you WILL become a better reader.
This isn't to say that you can't ask about your own draws or cards BUT there is a line. There is CONTEXT.
It depends how you go about it.
Make sense???
And if you aren't sure what type of posts are okay or not okay, it's fine to ASK me privately first.
*
One of my favorite things to talk about is and will be real life experiences reading the cards for others. What makes us nervous, what gives us confidence.
Reading for people is more than fortune-telling. You are confronting hearts and souls and sensitivities And you have to be willing to go where they go But you also have to be willing to establish how you read, your own personal style.
*
Here is the loose structure that I'm going to be working with at least for the first month. Do remember this class is alive. We're not working from pre-designed material It's alive. We're working from my experience my inspiration my creativity and yours too!! It's a collaboration.
This is what I'm thinking once we get going because of course the first week or first few days I have questions for you 🙂
Mondays will be for topics in Tarot (various!! and ongoing)
Wednesdays will be for individual cards. Going deep into card meanings.
Fridays will be for topics in reading i.e. issues related to reading for others or for self.
Participants are welcome to start their own threads at any time on the subject matter of Tarot.
It's definitely not a race because the group will be ongoing. So I'm not going to try to pack everything in within three months. But if you love the cards and want to talk about the cards and need to learn and discuss at your own pace then this group is for you.
Any questions? Message me. $25 per month. $75 (three months up front) to start. Moonpluto@gmail.com