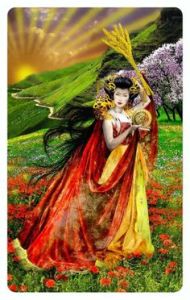 My mind is blown, truly.
Perfect for Mercury gone direct in Aquarius yesterday.
My mind is blown because I did a reading for a client this afternoon and then we chatted a bit and SHE told ME some things.
What's on my mind:
mind being blown! information, integration, synchronicity, releasing patterns, understanding, releasing anger, CLARITY and remembering today that I pulled the JUSTICE card. TRUTH. Justice in the Tarot is NOT blindfolded.
Basically she turned on a light for me.
One thing we were talking about: THE GODDESS.
And it came up how I never quite resonate to/with Goddess talk or even that word GODDESS or Goddess imagery and suddenly IT CLICKED when Athena was mentioned. I was the one who mentioned Athena and then Vesta and recalled these other Goddesses because, see, what was in my head was some… gauzy mystical vaguely witchy bell-sleeved Lady, kind of cartoonish or can't quite picture THE GODDESS (huh? who?) not so REAL……… even that word GODDESS and the idea of channeling THE Goddess or embodying Goddess energy just left me cold. It just DID NOT MAKE SENSE. There was a disconnect.
But all along, all along, all this time THERE SHE WAS and here she has been. Hecate. Vesta. Images from the Tarot, including the Page of Pentacles from the Tarot Illuminati. And more and more and more. The Goddess has many faces, she said.
Some huge part of me had no idea… who I was, what I was doing. I mean I was DOING IT but lacked a consciousness about it. The magick that I create on a daily basis in my HOME…
But now I get it, am starting to — so THANK YOU Gemini Lady. Something clicked in my brain. I suddenly SAW. You turned on a light for me. Funny I'm a professional Reader and here I am writing a testimonial for my client 🙂
It doesn't matter fuck all (to me) whether the New Moon is at 29 Aquarius or Zero Pisces — except for bloggers (like myself) who want to riff on Aqua energy this or Pisces energy that. If 29 Aqua aspects your chart, it shall aspect early Pisces AS WELL.
ENERGY SHIFT:
February 18th: SUN ENTERS PISCES and New Moon in Aquarius at 29 degrees (my 7th House, what about you?)
February 19th: MARS ENTERS ARIES (my 8th House, what about you?)
February 20th: VENUS ENTERS ARIES
February 22nd: VENUS MARS CONJUNCTION at 1 degree (really hot really bothered)
What I love about ARIES SEASON this year: we get trines to Saturn & Jupiter! 
But about the NEW MOON: yes it does square Saturn. Yes it conjoins NEPTUNE.
Sensitive empathic psychic Moon Neptune square Mistress Saturn 😉
I just posted this on my Facebook page:
It's NOT that you're so diseased and need fixing.
It's that you need to see the PATTERNS. We're all wounded.
In love life for example:
who YOU keep choosing. Who you keep attracting. Who keeps choosing you. And when you say NO and when you say YES.
And once you see the patterns oh man your life splits open and you stop living the diseased archetypes that have kept you stuck.
See the difference? You keep living out the same damn story. It's a STORY. A PATTERN.
But it's not YOU.
An old therapist said to me once: YOU ARE NOT THE BUMPY ROAD, the bumpy road I kept walking on.
You don't have to be perfect unsoiled totally solved and REDEEMED before you can love and be loved!

Pisces square Sagittarius feels dangerous to me. Where the hell is the reality? Excess escapism. I think Saturn can get lost in Sag, can drown in this aspect. You may get overwhelmed by your dear dear dreams/illusions/fantasies. That's the danger. That Saturn can't do his job of policing, of bringing reality back.
I'm not WORRIED about this New Moon for you… just pondering…
*
Ask the questions you feel compelled to ask. Keep asking them. You'll get answers. Only thing is — you can't always predict the timing or from where the answers come. In my experience they come from multiple sources. I implore you to PAY ATTENTION. LISTEN. 
The answers I got today? I was asking these questions – with my dry erase board – last year.
But life got in the way. I remember I had the entire board filled with… some of the answer but a lot of the search.
I couldn't really work on it though. I had to work on this other stuff first — my marriage falling apart, eviction from my apartment, moving to a new place in a new borough and the expense of that (physical and mental), the assault, seeing the truth of what was happening and had been happening, so much so much so much DRAMA. Once upon a time my life was not a Jerry Springer episode. URANUS PLUTO SQUARE (the last square) brings an END to this cycle. South Node transiting my 8th House (of dramarama). I look back and I know THIS cycle is ending.
And how I got here in tact, sane, working with inspiring clients and increasing in magick is… anyone's guess. Resurrection? High Magick 🙂 Resurrection. How did I get here? Day by day. Making choices. Every day a choice.
May you be blessed, all of you. I'm here for you. Drop me a line. Oh and I am doing (monthly and sometimes weekly!) Tarotscope videos (audio mostly) for all signs on YouTube 
**
FINALLY this month website getting a makeover!! Stay tuned for the new 🙂
Rates are NOT going up at this time.
Hour-Long Readings are $115.
Please visit the Work With Me tab so you can see the Readings PACKAGES.
PS
JUST ASK THE QUESTIONS. YOU DON'T HAVE TO HAVE ANY ANSWERS AT THIS TIME. JUST ASK THE QUESTIONS.