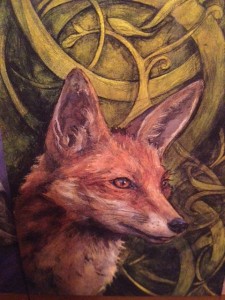 Frankly I'd prefer to flash forward to April.
Just be DONE with the rest of March in an instant!
The final Uranus Pluto square IS upheaval. IT IS.
What will help? If I tell you to remain calm? Will that help? To avoid anyone and anything who could possibly trigger you? That may not be possible.
So I wrote my Beliefnet column and drew the Ace of Wands (the link is here) which I thought was a fabulous card for this energy.
NOT
DEAD
YET
Not at all. Far from it.
No Tower. No Death. No Ten of Swords NOPE but a fragile beginning. I mean, it feels fragile to me BUT the Ace of Wands is NOT fragile. YOU GOT THIS. You, clever fox 🙂
I then pulled three more cards because TAROT 🙂 and I pulled THREE sevens! And you'll just have to read the post to get my response to that crazy number but long story short:
YOU HAVE OPTIONS. 
No matter how crushed you may feel right now. And TRUST YOUR INTUITION says the Ace of Wands!
The story is ending. That's the relief here. It's over. YOUR URANUS PLUTO STORY. Finally. And yes Uranus and Pluto will still be close in orb for a few more months but they separate, they separate and you can give that stinking rotten wood a send off. Burn it. Tear it up. It must be destroyed.
Do not let the Uranus Pluto square zombie golem monster LIVE. 
You have to kill it so that YOU can live.
No matter what other transits you are under at this time, the separation of these two heavenly bodies is a BLESSING. Remember that. When you are cursing the Eclipse or Saturn going retrograde or Mars all up in your grill this week.
And I am sorry you are lost and I am sorry are you confused and I am sorry that you do not know how you will get your needs met but ACE OF WANDS okay?
The Ace of Wands lights your way.
xx