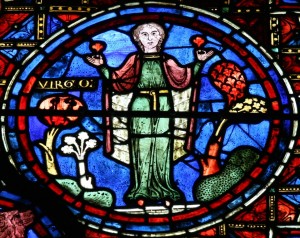 I really really like this Full Moon. In Pisces. 16 degrees! 
I'll tell you what I like: I like that it makes a trine to Saturn in Scorpio. Folks with planets around 16 degrees Cancer will benefit. It becomes a Grand Trine for them. Full Moon, Saturn, Your Cancer Planet(s).
I like Water trine Saturn because Water needs to be held. Water needs HELP. A trine from Saturn = REINFORCEMENTS — for whatever you are going through, dear watery friend.
But what about everyone else? 
The fact that the Full Moon is conjunct Chiron COULD BE seen as alarming. Or sad. Feelings, memories, pain you don't want to deal with but hellllllooooooooo in there!!!
Sun in Virgo opposing Moon + Chiron in Pisces: your emotional pain getting Virgo-ized, analyzed. Doesn't have to be AGONIZED. It's more than a bright light; it's a team of good doctors, nurses, healers, voodoo priestesses, spirit guides in the form of dogs and oak trees, and…
YOU HAVE TO SHINE THE LIGHT (of the healing practical Virgo Sun) SO YOU CAN SEE THE WOUND. YOU HAVE TO SEE THE WOUND SO YOU CAN…
gently, tenderly apply subtle pressure and the correct herb and salve. There is an herb. There is a salve. For you. It is gentle and tender and it is for you.
You have to see what is there. There is no point in living if you are not going to take the time to see what is there. Yeah. I hear you. I don't want to look either.
AND YES mutable folks around 16 degrees are going to have mixed feelings about all this, especially the Gemini and the Sagittarius but for them, it's a blip, temporary feels. For the water folk though, this Full Moon is YOUR CULMINATION.
And of course if you want to know what is culminating yes you have to examine your PISCES house, where the Full Moon is. It's quite meaningful really. Revelatory.
Why i also love this Full Moon:
Go ahead and give it a trine to Mars in Scorpio (the orb is wide, but humor me) but just as important — (REDACTED. I was looking at the wrong page in my book and need to fix something here).
This Full Moon is not here to slice and dice, not here to chop you up… the energy actually is gentle and healing and wise so see if you can match it. Imitate it. Despite whatever shitty transits you are having. Despite whatever else is happening in the sky, I want you to mirror this Full Moon. Morph. Lose boundaries. Shape shift. Imitate it. Become it. Healing. Forgiving. Of yourself, first and foremost. And anyone else you feel like bestowing.
I'm serious about this. Be the Moon. That's your homework. Let me know how it goes.
Love, MP
PS Ceres, Vesta AND Juno are trine this Full Moon. Will blog about this tomorrow…
*
I'm bringing back my BACK TO SCHOOL SPECIAL for the month of September. These are 40 minute readings (by Instant Message or Phone) $50. Email readings remain regular price! Astro/Tarot Readings click here.
NEW POST ON BELIEF NET : We Fall Like Leaves, Meditation On the 10 of Wands