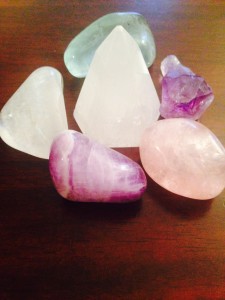 I haven't written a play in a few years – but in the last 48 hours or so I had lines come to me — lines of dialogue and a vague story take shape.
And at first the thought: 10 minute play! Because I like writing or used to like writing 10 minute plays and there are all those contests to enter for my dark and twisty short plays.
And then I thought: no — full-length play! All I know is I had words of dialogue show up in my head and I can't remember the last time. And then this morning I had "story" show up in my head and now it's a matter of time before I sit down to write. Maybe let the story take shape a bit more in my head.
This morning I drew Tarot cards like I usually do. One card for the energy of the day in general. One card for advice (the "do" card) and then another card for "less of this" or "don't do this" or "avoid" or "just don't take this approach today."
And today's general card (for me) was the Five of Cups, one of those sad minor arcana cards and how we are supposed to remember that two cups still stand despite the fallen three.
I turned to one of my Rachel Pollack books (Tarot Wisdom) and was surprised to read of its association with the sefirah (sphere) of Gevurah on the Tree of Life — sometimes translated as strength, sometimes as power, sometimes as severity (and more). I often think of it as "severity" (as opposed to compassion, chesed), as that was the first meaning I learned for this word.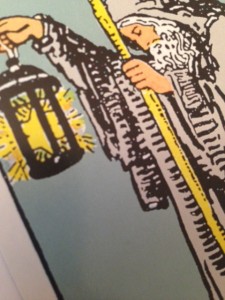 There is no way to sweeten this card. Accepting reality is the only way out of hell (wrote Marsha Linehan). When there is mourning to be done, there is mourning to be done. No skipping steps says the Five of Cups.
"We need to experience the sadness before we can move on from it," says RP.
My DO card was the Hermit. I drew this yesterday from a different deck. Listen. Learn. Teach. Hear. Quiet. Interior. Solitude. Withdrawal. Wisdom. The "Wise Old Man" archetype (writes RP).
Seven of Wands (dynamic, pushing, victory after the struggle) was the "less of this" so really all three cards agree. It's a day to go inside. I'm glad about this. Yesterday I drew Knight of Swords and with Mercury conjunct my natal Uranus the day was nonstop, unpleasantly so.
*
The Astrology:
Moon sextile Chiron today, which I like for the cards I drew, suggesting healing and rest. The weekend should be snappier under the Gemini Moon. Tomorrow we have ONE LAST Moon Saturn opposition until Saturn enters Scorpio again (we all shudder to think). And then on Sunday VENUS TURNS DIRECT hallelujah and then the rest of September is anyone's guess what with Saturn entering Sagittarius again and the two eclipses AND Mercury retrograde AND Pluto direct AND Jupiter opposing Neptune and there's more and it's a lot. I'll be blogging as it happens.
So maybe the Hermit card is good for you too. There will be a storm or two and the Hermit has a light, a lamp, a lantern, a torch, a fire, and will help you see, keep you calm.
I decided to draw a card for you — and it's the Two of Wands. A choice. Which way will you go?
xx
For information about working with me please click on this link. Here you can get details about my Reading Bundles, Weekly Tarot service, and more.
September Special! 
I am doing a September Special. Write me for details moonpluto@gmail. I want to do Tarot for your fall season – what are the energies coming through for you for September, October, November, December. Add-ons to this: focus on the September Eclipses but if you've already had your fill of Eclipse talk (some have, some haven't), then let's talk fall magic. Do you want to create an altar but aren't sure how? Confused about candles? Maybe fire isn't your thing but what else can you do? Think you're a witch but aren't sure? 🙂 we can talk about all of this…