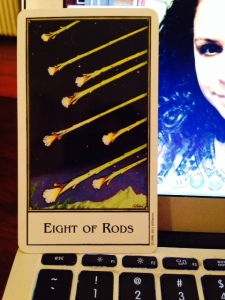 Testimonial from a blog-subscriber (after I'd emailed her to let her know about the Mercury Rx troubles).
OMG Aliza. I was wondering why I was suddenly transported back in time when I went to the blog. I figured it was that trickster. I am starving for your special flavor of astro-wisdom. So excited for more posts!!!
This Mercury Rx bullshit was a blessing in disguise because it helped me figure out what the Private Blog needs to be.
I decided to move to a Tumblr and I like it and so far the feedback is good and it is more intimate. It's quicker too.
I don't just write longer blog posts, but updates too, postcards, thoughts, pictures, cozy. It tastes sweeter. Tarot cards for the evening. So I blew a bunch of cash and brain cells (was stressful due to tech difficulties) on making THIS blog password protected if need be and now… we are Tumblring.
*
I got REVERSALS on my mind. 
Planets that retrograde.
Tarot cards in reverse.
Spells that need reversing.
And this is really Part One of MORE.
What do you make of the upside-down world? Are you able to let it be? When yours turns? And then turns. And turns… 
Seriously. I was Zen when my blog went down. I didn't even cry. Yes, triple Cancer and I did not cry. Because I can cry when I'm tired. Cry when I'm stressed. Cry when happy, sad, hungry, etc.
I was needing a break anyway and figured "Oh it'll be back up soon enough." In the back of my mind though I was worried about the subscribers and I was feeling very disconnected from my writing.
I write therefore I am.
(And you?)
But back to the REVERSALS and retrogrades: 
Mercury goes direct on Saturday. 
Uranus and Neptune are retrograde the rest of October. 
In November Neptune goes direct. Less confusion for you? Maaaaaaybe.
And in December? Jupiter goes retrograde! Your luck doesn't end but… it's quieter. Imagine a Sagittarius with his/her mouth taped shut. YOU CANNOT HEAR THE PROPHESY as clearly.
Uranus goes direct! 
Saturn enters Sagittarius… 
We cannot stop this. It's out of our hands. These cycles. JUST LIKE THE MAJOR ARCANA. Fate. 
Do you work with Tarot reversals? Sometimes I do. Mostly I don't these days. But I'm still experimenting. Many will argue that the cards are complex enough. But I LOVE reading meanings for reversed cards — they deepen the cards for me, every time.
And then there are the spells 🙂 Maybe you need to reverse something you've done. Or suspect someone else has done, hmm… Or want to reverse the energy in your home. Turn it back around, your upside-down world. (I am not advocating spells. Just sharing. And beginning some reading on hoodoo and some deeper wiccan studies so plan to share interesting tidbits.)
Tangent! A gal in one of the chat rooms noted that the final Uranus Pluto square in March 2015 goes KABOOM. Both Uranus and Pluto are DIRECT then. I suggest you NOT review that chart before bed!
So, Mr. and Mrs. Upside-down World reading this blog post, where you at? With your backwards and your forwards and your planning and your direction and your…
Here's the question: what makes you feel brave again? When you can't sleep. When you fear and fear and fear.
🙂
This topic to be continued…
*
To have access to the Private Blog, look here 
For info about my Astro/Tarot Readings, look here 
For my Facebook, this is the place 
And here is a new PUBLIC Tumblr with some extra pix and various and sundry Astro/Tarot