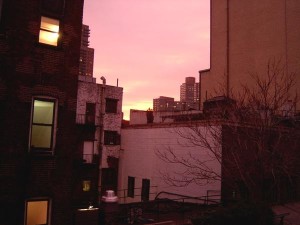 What I want you to do, if you are joining me on my 7 Day "releasing" ritual is come up with a central image, in your mind, that you will return to each day, in one form or another.
You could be swimming. You could be washing the dishes. You could be picking up your kid from school. You could be meditating. You could be waking up. Anytime, anyplace. Return to this image and what it symbolizes for you.
I found my image this evening during my meditation class and I realized that this 7-day thing I'm doing is about ONE thing: I am letting go of an attachment. 
The Moon is void of course in Aries now. You are not the warrior. It is time to rest.
Venus is now in Cancer. Time to love.
Mercury is not direct yet in the Big City time zone but soon, soon. One degree Leo. Have anything at this point in your chart? OR very late degree Cancer? Gears will turn again. Some creaking but they will turn. Feel it?
Mars is TOTALLY gaining on Saturn. Consider then conjunct NOW but of course it will perfect. Now it is "applying." Some people, me included, often feel a transit most during this phase and then when it's exact is… a relief. Sadly though sometimes there is a boomerang affect. Pressure then release then bang pressure again. Aftershock.
I'm tired so keeping this short 🙂 Home late from my class but let give you a few more details about the upcoming private discussion group in MoonPlutoLand.
Oh and even if you DON'T want to join the group, you can still Friend me on Facebook. 
http://www.facebook.com/moonpluto.land
Here is a link to the original post. And the added details are this:
I know people have different levels of knowledge but I will try to make this a fun teaching and learning experience and that beginners can ask questions but we'll still go deep, which should satisfy everyone. I look at charts all the time but I STILL love reading "basic" astrology books. I love other perspectives. I learn from you guys and your experiences as much as you learn from me. 
AND I think what I will do is follow the sky for our topics. Go deeper into the transits, into where the Moon is, Tarot draws for people. Yeah. We'll watch the sky together over the month. It's starting to come together in my mind. But your questions of course will also be welcome. You'll be able to post. 
This week I will be registering people. I want to get at least 10 participants. I've had a lot of inquiries and a few definite maybes. 🙂
Again, email me for essential details and instructions. I'd like to start early next week. So by the weekend, I'm hoping to have my ten. It can be more than ten but that's my minimum 🙂
Also, if I promised anyone an email with more details and you did not receive it, please email again. I was doing a lot of email FWDing and someone may have gotten lost in the shuffle.
Have a wonderful star-filled evening 🙂 Hugs from the Big City
Love, MP