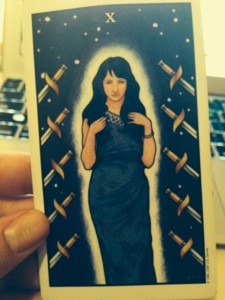 "You must change your life" wrote Rilke. I wonder what transits he was under when he wrote that 🙂
I am thinking about my own "mid-life" transits and wondering about the future of this blog. Not wanting to end this blog but wondering about direction. How to make it fun and interesting again for me. Just posing the question has proved lucrative. Some folks in the comments here as well as on my Timeline on Facebook. Thank you, Mitraya. You have always been supportive of the work. 
I've also had a few people over the years (more than a few?) say to me that I'm the only astrologer they've ever consulted.
"You must change your life" could be a slogan for my transits. Uranus square my Sun. Pluto opposing my Sun. Uranus is closer in orb now and I am starting to mourn (cue Pluto). Mourn what won't be. Yes, such things Do exist in the lives of women, in the lives of humans…
A gal in one of the chat rooms suggested burning it all to the ground. That that was an option under such transits but I immediately said no way. I'd be homeless. This is my job. I saw once Maria Forleo saying that a blog is not a business plan, but it was for me. Am I rich? No. But I got by solely by blogging, doing readings and teaching my classes, with nothing more than a blog and social networking and effort. And lots of word of mouth. I thank you all for that, the ones who recommend me.
Of course these transits will last a few years and even as Pluto is opposing my (Sun and) Mercury and Mars, it will trine my Saturn and Moon and Pluto. A GRAND TRINE. I don't have one of these in my natal. It will never be exact, it will be planet by planet. First Saturn in Taurus, then Moon, then Pluto in Virgo, but conjunctions function fused so…
And just now chatting in the same chat room about fear. Fears are just thoughts I said. Rich and juicy thoughts.
*
So the blog will continue, God willing, and my life will change in various ways but I hope, I intend, to keep reporting back here, what I discover. This reminds me of a Tarot spread I did last night. I was slowly reading about the Celtic Cross, more detail for each card position and drawing my cards at the same time and one of my outcome cards was the Empress. The Creatrix 🙂 what I hope most to be, card number 5 I think…
My prayer: may I continue to be of sound mind, body, spirit, so that I may continue to do this work…
Up and coming on the blog: I got up at 4:30 this morning to feed the cats. I think it was Cleo batting me or maybe I got up to pee, I don't remember 🙂 but I think I'll make the blog more personal again. It's what I have to offer. My reflective stance with astrology, with tarot. And I also wrote down a number of topics I want to introduce in the coming days… more Tarot spreads and various philosophical musings.
But please do visit Beliefnet for even more Tarot posts and Tarotscopes. It's an easy way to support me and THIS blog. By visiting there and sharing those posts on your own pages.
Thanks, all. And see you later today 🙂 I hope to post a new Tarot spread I'm working on. A Tarot spread designed for the hard transits! Also, Friend or Follow me on Facebook! 
Love, MP
**
New readings packages for my frequent flyers and single sessions as usual. Click here for info.
And look here for my new Beliefnet Tarot post on the Celtic Cross. How I learned to love it 🙂