I posted this on my Facebook today – from the virtual classroom, just some of what we're up to in there.
Also, some of what I'm referencing here, well, they ARE references to things we have already been doing or discussing so some of what is written below… won't make total sense but wanted to share it with you anyway
*
Week Two: September 1st:
WEEK TWO PROMPT FOR WRITING/PONDERING and adding to your map, my beautiful mapmakers.
PLEASE do this assignment.
No matter how hopeless you feel. No matter how good you feel.
Tell the Universe that YOU ARE HERE.
It is from the writing… it is from the writing that we… put ourselves on the map.
*
Today's Prompt:
HOW WILL YOU OPEN THE ROADS?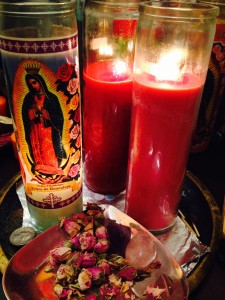 What is a "road opener"? I will explain in the comments shortly with a passage from my Occult Library so stay tuned for that……..
How will you open the roads?
How will you open the roads?
OPEN THE ROADS
Remember we are Jupiter in Virgo now.
We must ask why. We must ask how…
And then we must do our magic and let it be.
*
"Crossroads are ubiquitous in magic. Many spells demand to be cast at the crossroads; others require that the remnants of spells — left over candle stubs, ashes, and the such – be buried at the crossroads, where their energy can safely disperse.
Specific types of spiritual entities, known as "road openers" and inevitably beings of great power preside over crossroads. These beings can be petitioned for knowledge, information, and for a change in destiny. They control thresholds and roads and determine who has free access and who finds roads barred, who will choose the right fork in the road and who will wander hopelessly forever."
"Abre Camino Spells:
Abre Camino literally "road opener" or "make way" is the name given to a plant (Trichilia havanensis) used in Latin American magic to open blocked paths. Carry an Abre Camino stick with you at all times to keep roads clear and remove obstacles from your path"
(The quotes are from Judika Illes)
***
THIS IS JUST ONE WAY to 'open the roads' for yourself i.e .using witchcraft or magick or hoodoo. But…
WHAT IS *YOUR* WAY???
Last week on Friday I asked folks in here to come up with their own writing/thinking prompt and a few people's questions revolved around OBSTACLES.
Thus… here we go. To the Road Opener.
You don't even need to know the block in order to open it….
Now THAT is Jupiter!!
xx
I am doing a September Special. Write me for details moonpluto@gmail. I want to do Tarot for your fall season – what are the energies coming through for you for September, October, November, December. Add-ons to this: focus on the September Eclipses but if you've already had your fill of Eclipse talk (some have, some haven't), then let's talk fall magic. Do you want to create an altar but aren't sure how? Confused about candles? Maybe fire isn't your thing but what else can you do? Think you're a witch but aren't sure? 🙂 we can talk about all of this…