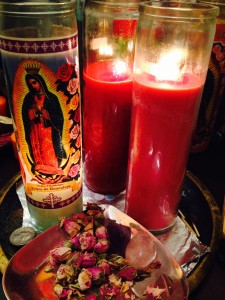 I'm not sure how to talk about my weekend yet — so instead I'll talk to you about the week ahead.
Remember that Mercury is retrograde now, in Libra.
I had my first taste of it this morning, some internet streaming troubles on two different sites. I trashed a plug-in and then downloaded it again. The problem sorted itself out, both sites are working fine now, and I probably didn't even need to do the whole plug-in thing but I did, on no coffee, under-slept-ness, and weird brain due to the weekend that I don't know how to talk about yet.
I don't mean to suggest something horrible happened. I mean to suggest there was a breakthrough of some kind and it's still breaking through — kind of like the ripples of an orgasm, maybe the world's slowest ever.
But about the week ahead:
I do not like tomorrow's Venus Chiron inconjunct (confusing and painful) BUT it gives way to Tuesday's Venus Uranus trine. Weird week for Venus, weird week for love — expect pop ups.
A couple weeks ago I went to a show at a "pop up" club. Not permanent. Or think of it like a pop up kid's book (my childhood favorite): in your face, colorful, made of paper. Love made of paper. What might that mean to you? That it is fragile? Wilts when wet? Venus has done this trine before but now she's in direct motion, no time to waste. You're in or you're out.
Amazing to me that the Sun enters Libra on Wednesday already! And the Sun sextiles Saturn.
Pluto goes direct on Thursday and Mars enters Virgo, squaring Saturn. If you can't keep up with the changes, you're not alone. The Full Moon Eclipse is Sunday at 4 Aries and something is coming to a close —  let it be something you don't need at all. The Full Moon is on my 8th House Chiron – I'm happy to dump it, this issue that has plagued me throughout the Uranus Pluto square and the Eclipses and Nodes in Aries/Libra. DONE! Chiron is a painful thing and Full Moons EXPOSE.
I think I better blog each day to give you a head's up and keep writing –  but I wanted to give you the landscape today and remind you that our Mercury (mind) and our Libra (relationship) are lost in space; that Mars Saturn is frustration but maybe not as frustrating in Virgo/Sagittarius which tend to adapt; that the second Eclipse is coming and these weeks in between are nothing to place a bet on but do keep passing the open windows. I will if you will. And that Pluto direct means you can finally move forward THERE.
About my weekend: I think we were trying to out-walk our feelings. Know the feeling? But that's not how it works.
xx