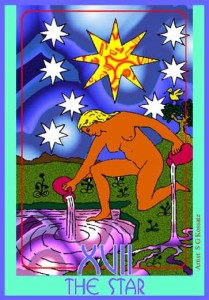 What Is It?
The group will be similar to my Facebook Page. If you've been participating on there, then you have a pretty good idea.
The difference is that with a paid forum I commit to being there more often, taking more questions, asking more questions, starting conversations, giving more support, more answers.
Make friends, learn astrology 🙂
I would also happily do one/two card intuitive Tarot draws and Very Mini-Readings (but not comprehensive readings) and other stuff to make it fun 🙂 including the ritual/intention/spiritual work that I love so much. It would be a daily thing.
Members who have gotten readings from me are at an advantage here. I sometimes remember your charts (if you've been a repeat client) or can easily look you up. I will not look up NEW birth info unless you are scheduling a reading.
I may commit to being "in the room" at certain times of day but that will certainly fluctuate. I will definitely be posting whenever!
What it isn't
I won't give comprehensive Readings in this group. If you want a private reading, you can always schedule one.
There will be other rules but I imagine they will arise as we go along.
But one rule I can think of now is to strive to be polite and pleasant (all my readers are of course :)) and to not be a total attention hog 😉 by writing REALLY long posts or questions. Be reasonable 🙂 In fact, the more succinct you are, the more likely some friendly fellow member may answer you! I don't mean to sound limiting at all. I just know how these things can go. Sometimes. 😉
This group could stay small, around 10 members but it could grow (in the future) and if so just keep in mind there is only one of me and I do tend to eat and sleep and work and leave the house 🙂
This group is NOT a substitute for medical or psychological or legal help of any kind. I am not a doctor of any kind. I'm an astrologer and tarot reader, blogger and writer. By NY State Law I also must tell you that any readings are for Entertainment Purposes only
Where Is The Group Located? 
Email me for details. I will definitely control who can join.. It will be closed to non-members.
Why is there a fee?
Astrology and tarot is my work. I am searching for ways to make it more viable. I had a good year with readings but I want to grow and I also like the community aspects of forums. Y'all can help each other too. We all have different levels of knowledge. I would say almost all my clients and the folks I chat with on Facebook and Twitter are nice and normal 😉
This is also a good deal for someone who can't afford regular readings because I'll be regularly "hanging out" in the "room."
Who Can Join:
Anyone as long as you pay the membership fee and I get good vibes from you. I do reserve the right to kick out disruptive or difficult or creepy people, if you cause trouble for me or other participants. Kinda doubt that would happen but who knows….
How Long Will You Keep The Group Open? 
We shall see! This announcement is the first step!
What Is The Fee?
Email me for this info as well as for location info. I am keeping some details private for now.
I will only get going on this project IF I have 10 people who commit to joining for the month (i.e. the next 30 days). There is no on-going commitment but when we reach the 25 day mark or so, I will send out an email to participants asking if they want to renew for the next month (or whenever the next group begins).
I may offer a limited number of sliding scale (i.e. half off) the price of membership but I will do that case-by-case.
Refunds:
I am still working on my refund policy. It is my hope that people who join are already familiar with me and the blog and know what they are getting into 🙂
Email me with your questions
moonpluto@gmail.com
Love, MP
PS If you are participating in the 7 Day releasing ritual, it begins tonight. Between 6 and 8 pm I will be meditating and doing a visualization to release people, places, things, habits that no longer support my happiness and development. This is Step One. Join me energetically if you like, doing your own visualization, meditation, ritual, intention. I mention the time specifically for those in the Eastern time zone or so that you can adjust it to your time zone. I do believe that when people meditate or pray together or do ritual work together, energy is raised (as it says in the Edgar Cayce readings).